performed by the Vienna Philharmonic under Karl Böhm (1973 recording) 
So did I have that epiphany (from Tuesday's post)? I think I may have. It seems there comes some point where you hear something (or everything) you didn't hear in the 100 previous listenings, and then… you can never really go back and unhear it, kind of like that GIF of the spinning ballerina girl in silhouette spinning left or right, or the image of the beautiful young woman or the old hag: once you see it one way, it can be very difficult to unsee it. That's my thought.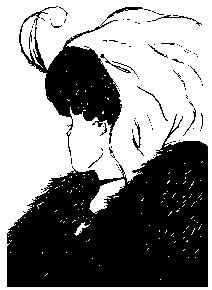 not my image
Again, Let's just put Bruckner in the context of part three of our German(ic) symphonies. He's the third post, and the second Austrian in the mix, with only one actual German so far (Beethoven). We didn't do his pastoral, but Brahms got his pastoral in, and now Bruckner does... sortofkindof. The two composers had their issues, and Bruckner was clearly in the Wagner camp, but as I mentioned on Tuesday, if there had to be a fourth B, it would be Bach, Beethoven, Brahms, Bruckner. I say that not because I love his music (yet), but solely because he played such an enormous role in musical history of the time (as later would another Austrian!). So that's where he fits into the mix. And both he and Brahms will continue to reach out into next week's post as we continue an interesting little thread of musical history. Stay. Tuned. 
I had kind of hoped this one occasion would help me really hear the piece. It was a long drive up into the mountains to film part of a movie with a crew I was part of. The picture in last week's article (two links!) was taken at our destination. The scenery was beautiful, the air was clear, and riding through and into mountains and tunnels was wonderful. Perhaps that setting would put this kind of music into context. I felt perhaps like I understood it better, but it still wasn't an eye-opener. It was the beginning though. Again, words like 'majestic' and 'towering' come to mind with Bruckner's music, and riding through the mountains covered in fog on a dirt road with valleys and trees and the landscape… it felt like maybe that's how this music should feel, and sure enough (this sounds so cliche) it sounded different after that listen. 
Also, my modus operandi for these kind of … early listens is often just brute force. Listen